What Food Makes for a Healthy Dog?
Here at Animal BowenCare the health and well-being of our Canine friends is paramount.  Providing Animal BowenCare to help maintain well-being is just one aspect of yours or your clients dog's life.
Enhancing our dogs lives through what we feed them requires careful consideration.  If we look at dogs in the wild they are opportunistic and will eat a diet rich in animal product, that means all of the animal, as well as plant based.
In today's consumer society the push to feed our pets processed 'foods' is strong. However, there are much healthier alternatives.  Here are some ideas from Dog Behaviourist, Julie Tolliday, from Barkers in Balance.
What do I feed my dog? As with any other science there will be polar views about what to feed your dog. The dog food  industry is no different and is a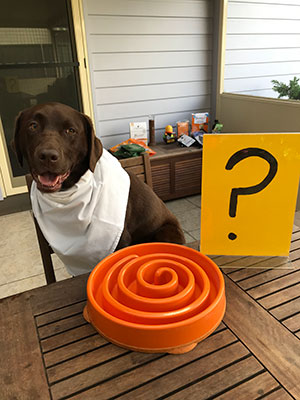 minefield of widely varied opinions. After many years of listening, sampling (not me, the dogs), discussing and researching, here are some logical facts I'm confident to share.
Feed your dog premium dog food. You can't buy premium dog foods in a supermarket. Watch "Petfooled" you can find it on You Tube and it isalso available on Netflix.
The correct size of individual pieces of premium dry food can help to scale your dog's teeth, therefore enhancing their dental health.
Much as we want to give our dogs loving nurturing, home-cooked meals lack the nutrients that dogs need for a balanced diet.
All mammals need to take in moisture from their food. Therefore there is a strong argument for feeding your dog a raw, fresh diet, produced by professionals who know what to add to the food. A local business that does this well is Somerford Raw and Natural located in Mayfield West NSW 2304.
Because the composition of a fresh raw diet is soft, raw bones or other natural chews are essential for tooth and gum health.
There are recommended daily amounts for all diets, fresh or dry. These should be adhered to as most dogs have a faulty "off" switch, if any at all. Please do not look at your dog and think, "He still looks hungry"!
What does a dietary day look like, in the lives of my dogs?
On rising: Hunting for a handful of premium dry food that I have scattered through the lawn.
During the day: A choice of…
Solving enrichment toys and puzzles containing premium dry food or natural Australian treats.
Walking and training outside the home, using premium dry food or natural Australian treats for feedback. Four suppliers of quality Australian treats are:
a/ Petshopboyz.com.au
b/ Balancedlifepet.com.au
c/ Ivorycoat.com.au
d/ Loyaltypettreats.com.au

Frozen Kongs stuffed with Somerford Raw and Natural or Balanced Life Air Dried Raw. Here's a link to a review of Balanced Life
Somerford stuffed frozen cow hooves

Raw bones.
For dinner: Somerford Raw and Natural in a bowl, the amount calculated with a deduction, according to how much food they have had for training and activities during the day.
To me, it doesn't matter how often or when you feed your dog each day, provided you stick to the recommended daily quantity. There is a wealth of ways to keep your dog occupied, stimulated and thinking, using their daily food allowance. In this case, food is not only the way to a dog's stomach but also to his mind!
We hope this information has been helpful in your quest to maintain your dog's health and well being in the best way possible.