The Adventures of Tuppence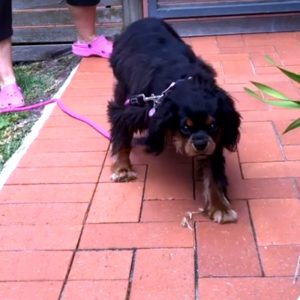 Hello everyone my name is Tuppence. I am an 8 month old Cavalier King Charles Spaniel.
A week and a half ago whilst out for a walk I thought I had won the lottery when I managed to slip the lead!However, running onto the road, just in time to be hit by a car, was not a good idea!I hear my horrified owners rushed me to the Salamander Bay Veterinary Clinic.  Angela and the other Vets were amazing.  They gave me pain-killers and IV fluids, took blood tests and x-rays. My humans were beside themselves butI didn't know what was going on as I had been knocked unconscious.
Much to mine and everyone's relief there were no broken bones or internal injuries but my right lower leg / paw had some nerve damage so I couldn't weight bear. I came home after a few days in hospital with pain-killers and anti-inflammatories.  It was good to be home but I still wasn't feeling the best and moving around was difficult.
Then Mum decided to take me to get some Animal BowenCare, whatever that is!  Mum had had human Bowen and really felt it helped so that is why she took me to see Katrina.
Well Katrina sat down on the ground to talk to me while mum held my lead. I think she thought I might try and escape again! Katrina gave me some yummy treats and then proceeded to make tiny little 'moves' on my back, neck and front legs.  It felt nice, it didn't hurt one little bit.  I even gave her kisses for trying to help me.
When I got home I slept really well.  The following morning I got up and though I still could walk properly it didn't hurt anymore and that was before the pain-killers.  How exciting! I wanted to go outside but they would only let me out on lead. After a couple of days I could even manage the 'doggie door' – carefully of course.
So Mum thought I needed a follow up with Katrina for some more Animal BowenCare.  Katrina couldn't believe it when I ran to her to say hello.  Mum was telling her how much better I have been after my Animal BowenCare. Both Mum and Dad couldn't believe the difference.
This time I knew what Katrina was going to do. So while Mum gave me treats,Katrina made all this little 'moves' on my back, neck, shoulder and front legs.I gave her kisses again before going home.  When I got home though I was very tired and fell asleep.  I'm looking forward to feeling even better tomorrow.
Well how good do I feel after my last Animal BowenCare session!  I don't even need my pain-killers to run to mum in the morning!  So much better! Yippee!
I went to the vet 12 days after my accident.  They said they were amazed with how much progress I had made!  Well mum did tell them I had Animal BowenCare. Now I'm allowed to go on short walks on a lead.  Yippee!
I'm one very lucky little Tuppence!
"We both recommend Katrina and Bowen for dogs and feel it has aided Tuppence's recovery immensely. Her recovery journey has come so far in 8 days and we feel she has benefited enormously from Bowen. After she sleeps the treatment off we can both seen improvement in her movements, demeanour and general well-being. Tuppence has enjoyed visiting Katrina, maybe it's the treats while therapy is administered, but she does deliver kisses to Katrina too!!!

Carol and Konrad are grateful for many things, just reaching out and touching our girl, giving her cuddles and receiving her kisses. We thank Katrina for her part in getting our girl back."